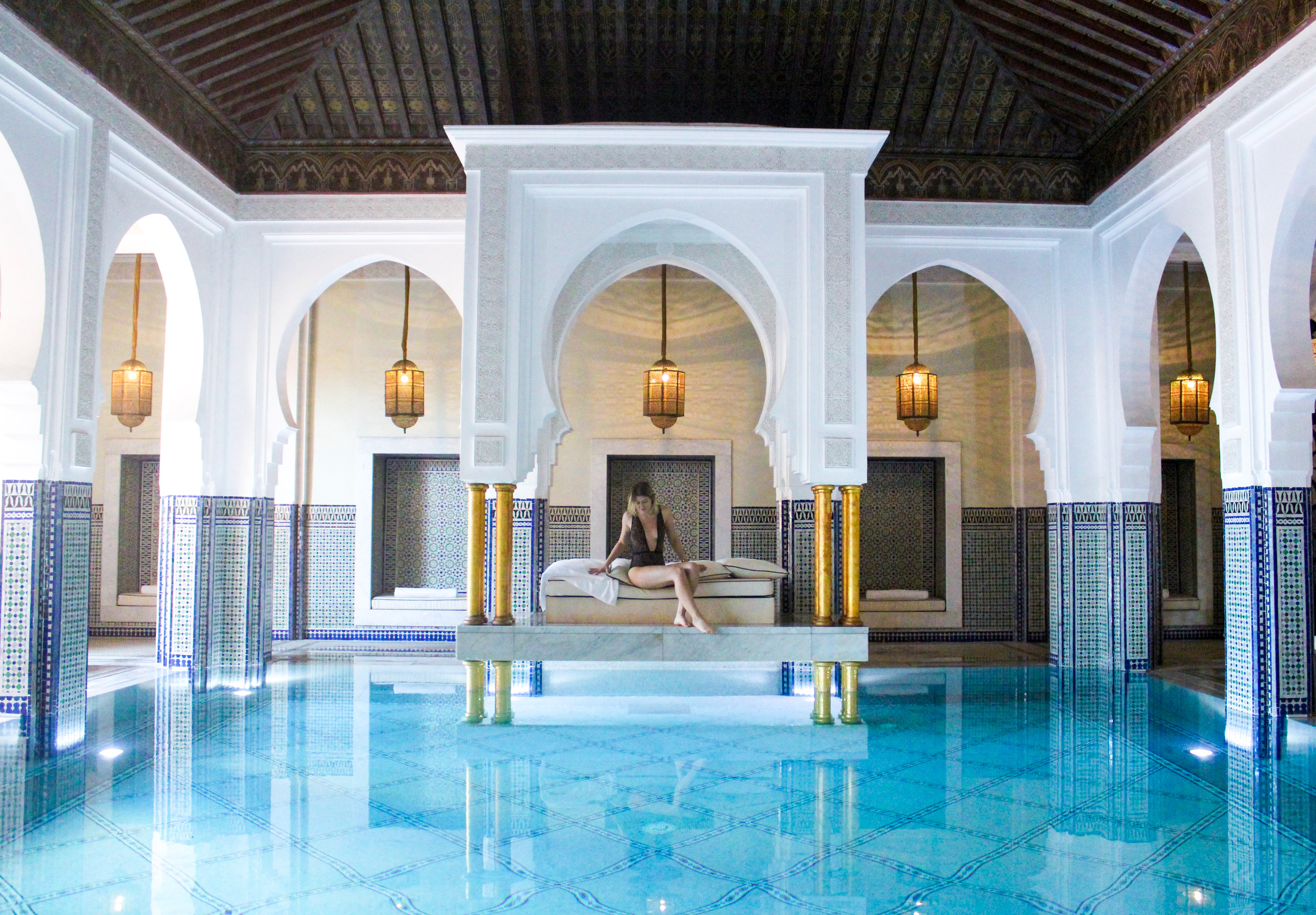 JFK --> Madrid --> Tangier --> Chefchaouen
A lot of travel and a bit exhausting, but well worth it!
Things I wish I had known (/things I was told but ignored) on day 1:
-You really need plenty of cash for this trip, so if you aren't going to bring it, be prepared for any fees your bank charges to get it out here!
-Tons of places accept Euro, so if you are coming from the EU this is really nice.
-The Tangier airport does have a café if you leave baggage claim (I realized this after waiting 2 hours for my private car in the baggage claim area).
-A headscarf, while isn't necessary, will likely help you avoid unwanted attention (I, of course, did not pack one and was planning to buy one there).
Things I did know that saved me:
-Book a private car to pick you up at the airport and take you directly to Chefchaouen. I used Tangier Taxi, and while this option cost me 89 Euro, I could not have been happier to have this set up when I arrived in Tangier and learned that my friend's flight had been delayed, she missed her connection and wouldn't make it to Morocco until the following day. Tangier Taxi picked me up at the airport and dropped me off at my hotel's door.
Day 2 – Chefchaouen (the blue city!)
Get ready to carbo load and stop stressing about what you're eating because the food is half of any trip. My first breakfast in Morocco entailed a basket of bread and approximately 6 plates of potential toppings (various jams, butter, honey, olive oil, etc), a fried egg, fresh OJ and coffee. I'll have you know that I probably had half of the bread basket, or a full baguette worth, that morning. I didn't know it yet, but this was going to be a pretty standard breakfast on the trip. After breakfast, head into the city and explore what seemed like a whole different world to me on my first day. Wander the beautiful blue and white streets, stopping to take pictures in an infinite number of cute alleys and pop into various shops. Spend time sipping mint tea and people watching in the main square where the mix of locals dressed in traditional djellabas (full-length, hooded garments) and tourists is quite interesting. Listen to the call to prayer playing from loud speakers all over the city throughout the day (6 times, actually) and take it all in.
Do yourself a favor and stay somewhere with a rooftop terrace or at least eat at Aladdin (right on main square) to enjoy the view of Chefchaouen situated in the Rif mountains. Also, don't feel like you have to eat tagine (traditional Moroccan meal of slow cooked meat) on your first day…you will have countless opportunities to eat this and it will be the only dish served in various locations, so you might as well wait if something else looks good (I daresay you will need a break from tagine by the end of your trip).
If you can, stay 2 days in Chefchaouen. Since this was the first stop on the trip, it was nice to have time to adjust to the time difference and still feel like we adequately explored the town. We spent day 3 searching for famous alleys for photographs (pictured below) and walking aimlessly through the city, stumbling across countless other picturesque scenes (there was seemingly something worth photographing around every corner). I'm telling you, this place is so beautiful you will want to just meander for hours and hours.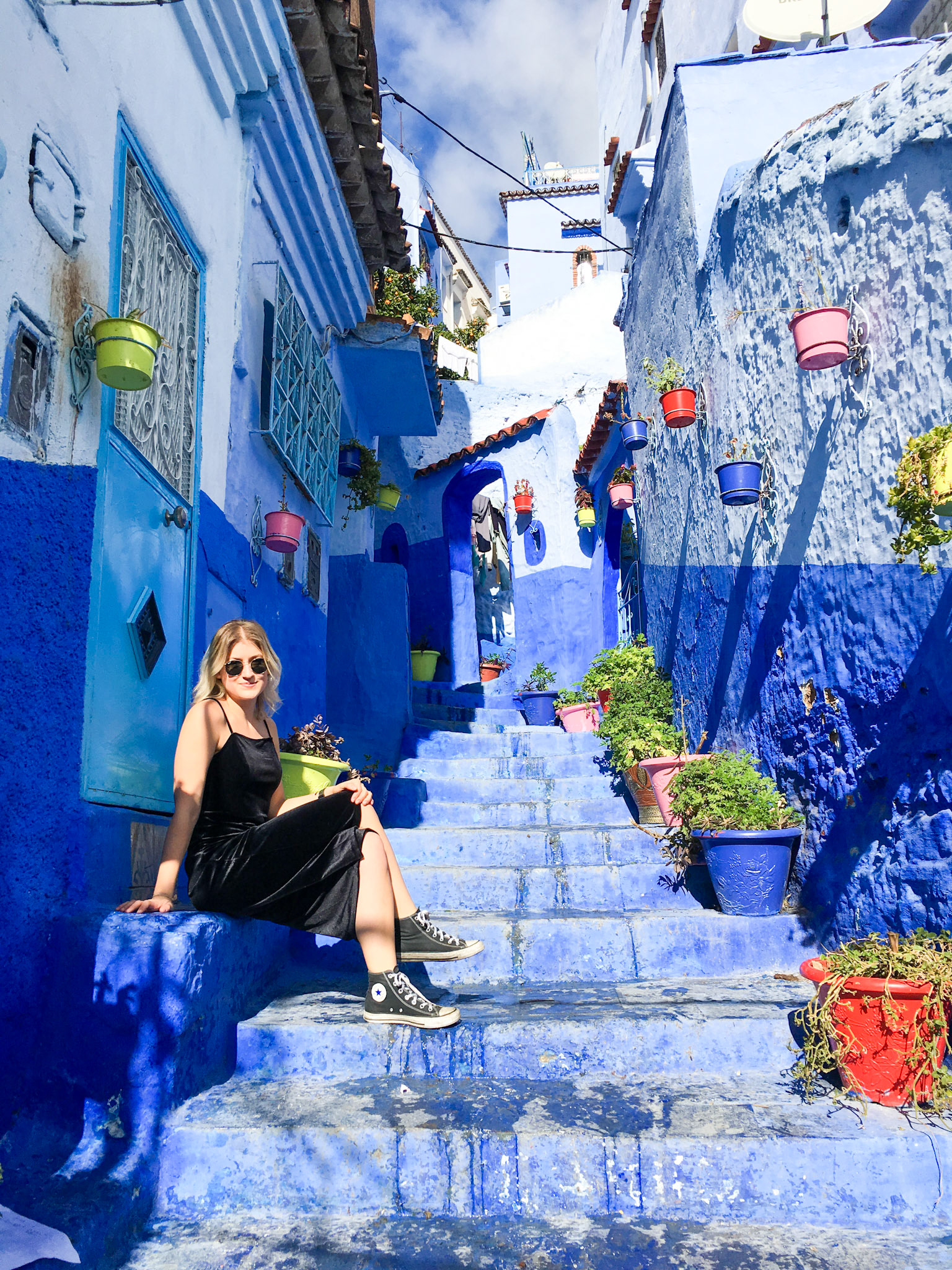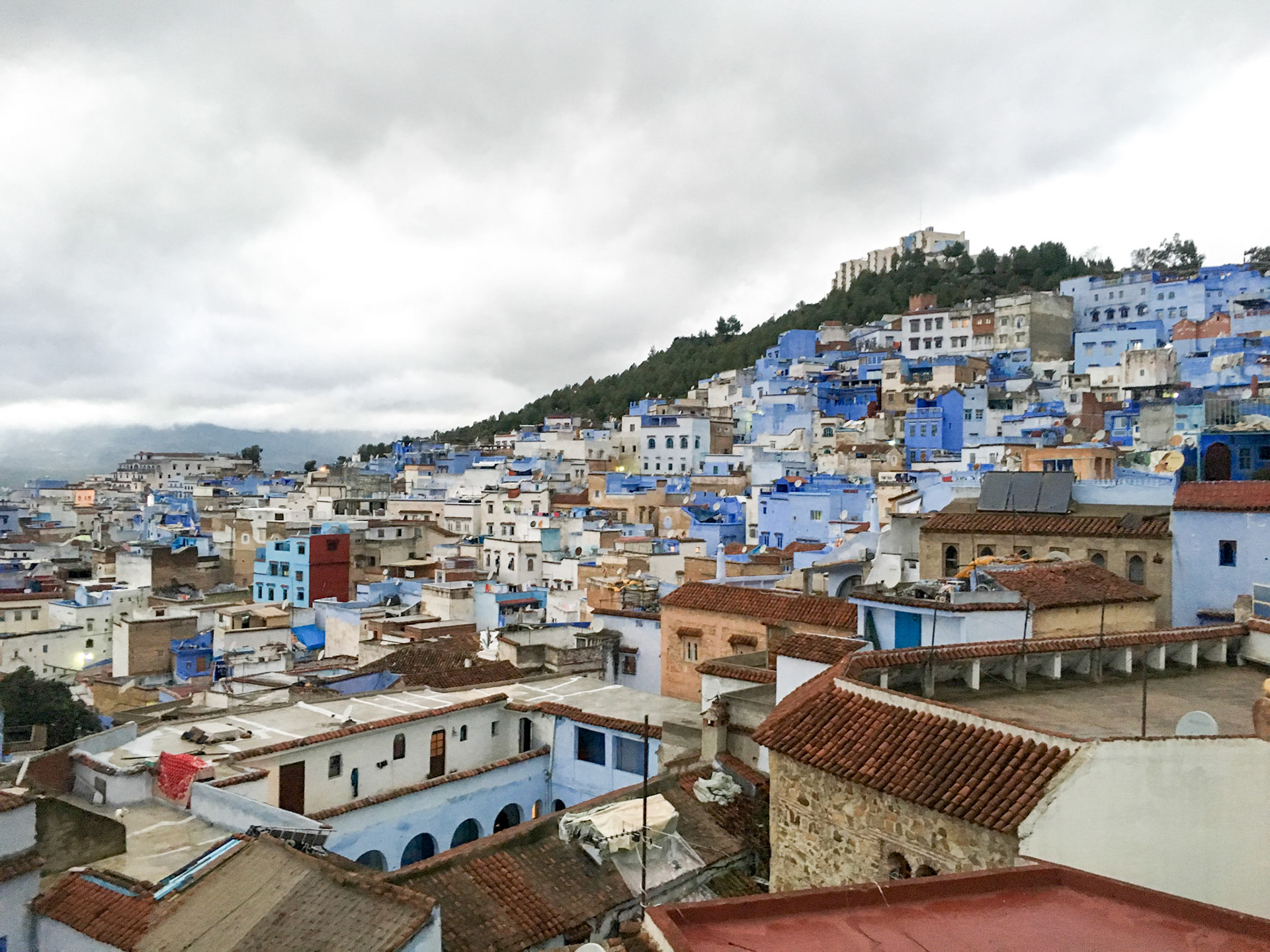 We hired a private car (Tangier Taxi again) for the 3+ hour drive to Fes and left bright and early to make the most of our only day in the famous medina (walled city). We started the day by enjoying the Moroccan sun from a roof terrace restaurant overlooking the Blue Door (entrance to the medina). We then did a quick visit to the famous tannery where leather is made. It is definitely worth a visit, but (if you're like me) you won't want to stay long because of the foul smell and because of the animal skins laying out to dry everywhere. We spent the remainder of the day exploring the sensory overload that is the ancient souk (market). There are spices of every color, leather goods, lanterns, pottery, scarves, chickens (being killed in front of you), you name it lining the extremely thing pathways (/roads). The pathways are so thin that donkeys are used to take things in and out of the souk because it is not accessible by car (you will however see various moped type vehicles maneuvering their way through, so do your best not to get hit). Be prepared to get lost constantly in the souk as it really is a labyrinth (I'm not sure how anyone navigates it with a paper map, thank you @googlemaps). Also, be prepared for people to be very aggressive about getting you into their stores. Around the tannery, countless people will also approach you and offer to guide you there (and charge you once you arrive). After some time in the souk you are going to need a drink, trust me (and drinks are not always easy to come by in Morocco). We ventured outside the medina to New Fes to Mezzanine, a tapas style bar. We watched the sunset from the rooftop terrace, while sipping rosé and eating chicken fingers amongst other millennials.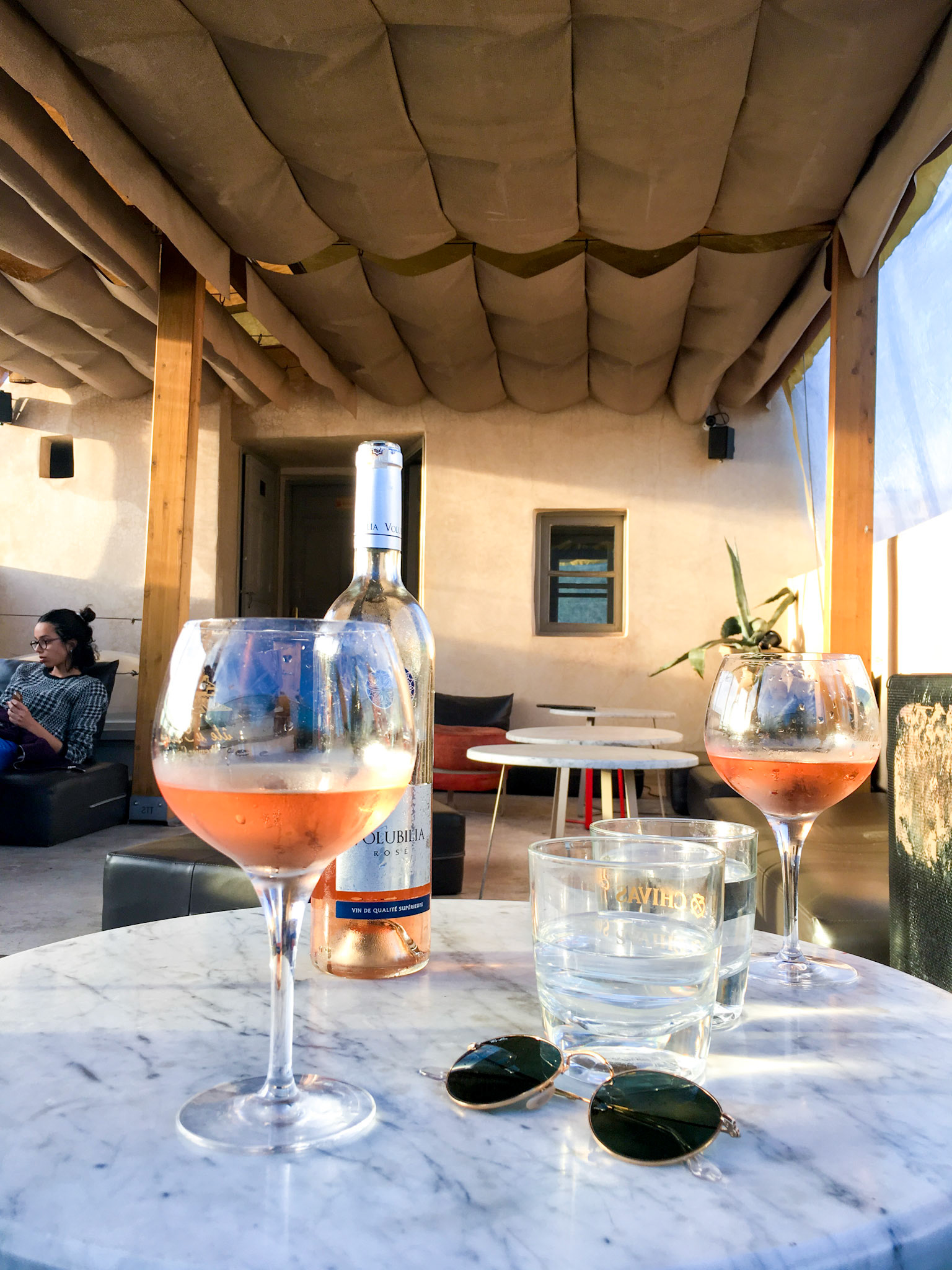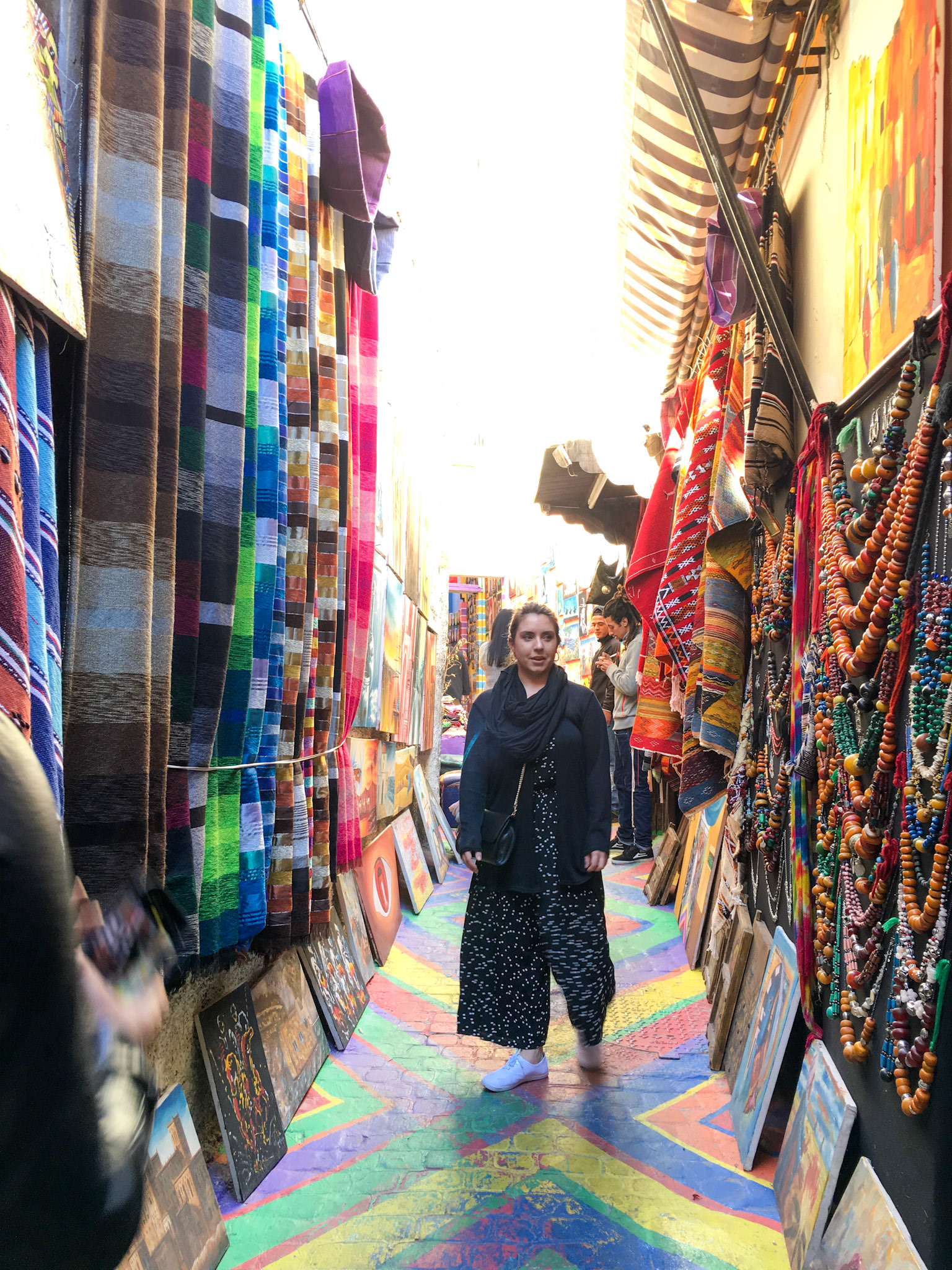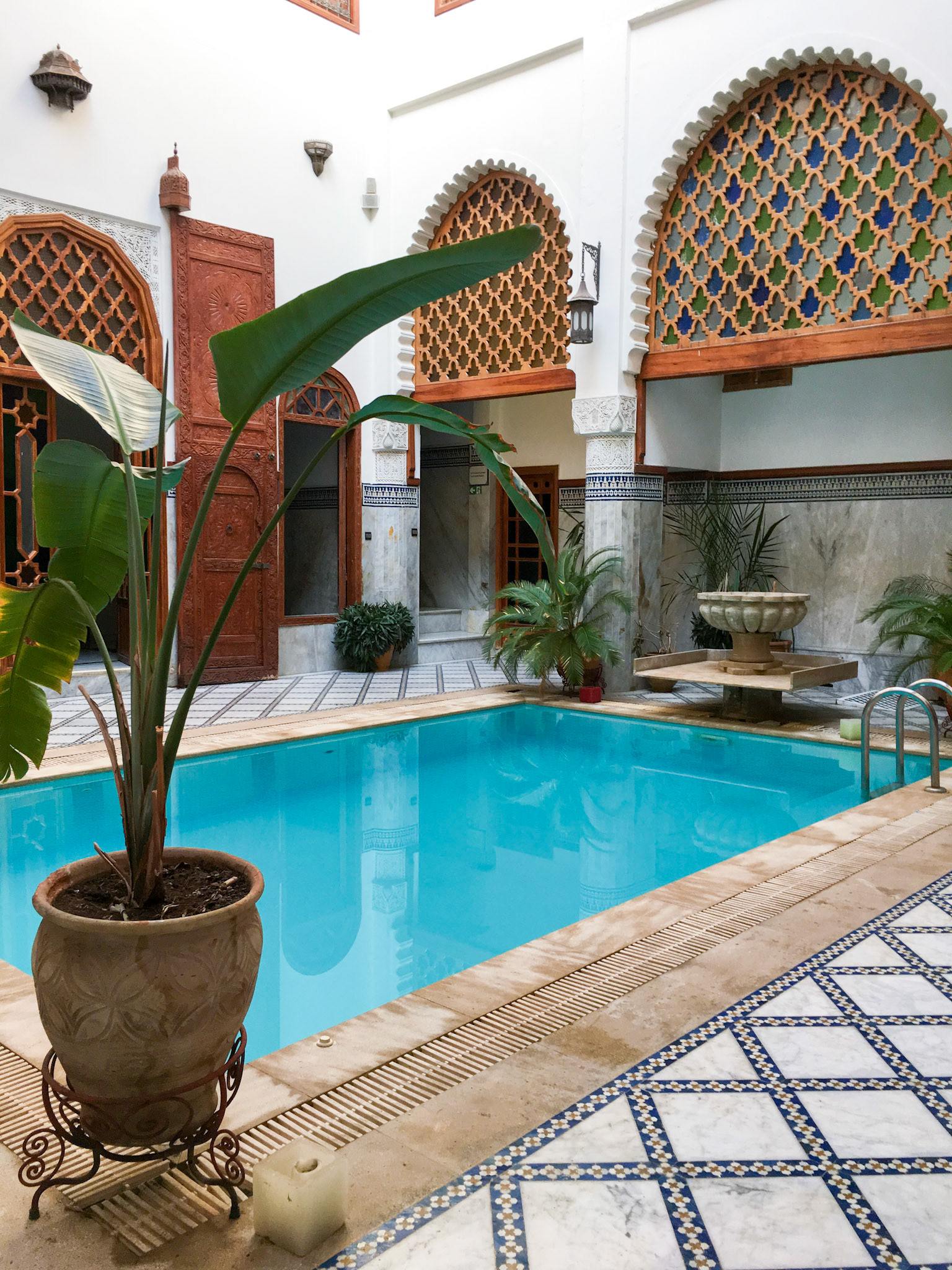 Day 5 - Desert tour day 1 
We booked a 3 day desert tour to take us through the small villages between Fes and Marrakech. Our driver, Youssef, picked us up at our riad (traditional Moroccan dwelling with interior courtyard) in Fes at 8am. We stopped in Ifrane (small town in the Middle Atlas mountains) and the cedar forests of Azrou, where we fed Barbery apes bananas. We drove through the Ziz valley, which has as many palm trees as you can imagine stretching as far as far as you can see, and the Aoufous oasis on our way to the Sahara desert. When we arrived in Merzouga (small village in the Sahara desert) in the afternoon, our camels were waiting for us. We took an hour sunset camel ride through the Merzouga dunes to our campsite for the night. By the time we arrived it was dark and chilly as the temperature had dropped significantly with the sun. Our campsite was lit up by the stars and the Moroccan lanterns in the sand, which lined the Berber carpets that ran between the tents. We had a traditional Moroccan meal and wine and retreated to our luxury tent for the night.
Day 6 - Desert tour day 2
We woke up early to watch the sunrise over the dunes, a pretty unreal experience. We had breakfast and took the camel ride back to the car and set off for our second day. We stopped at a well in the desert and met a nomad family that was there collecting water. We continued through Erfoud (small oasis town) and Tinjdad before reaching the Todra Gorge (orange limestone gorge), where we took a stroll along the natural spring river before heading to our kasbah. A kasbah is a traditional Moroccan style home with 4 towers. Many kasbahs today are run as hotels by families who live there. We stayed at Kasbah Ait Kassi in Boumalne Dades, and were welcomed by the family with a dinner of chicken tagine, cous cous and vegetables.

Day 7 - Desert tour day 3
The final day of our desert tour included Ouarzazate, the Hollywood of Morocco. We visited Ait-Ben-Haddou, a UNESCO protected site, and marveled at the traditional mudbrick dwellings and the stunning view of the surrounding area (and geeked out over the fact that Game of Thrones, Gladiator, and other films were filmed there). We spent the remainder of the day crossing the High Atlas mountains before arriving at our riad in Marrakech.
For more information on desert tours, check out Moroccan-Explorer: http://www.morocco-explorer.com/
Use code SARAHTONTI for 10% off any tour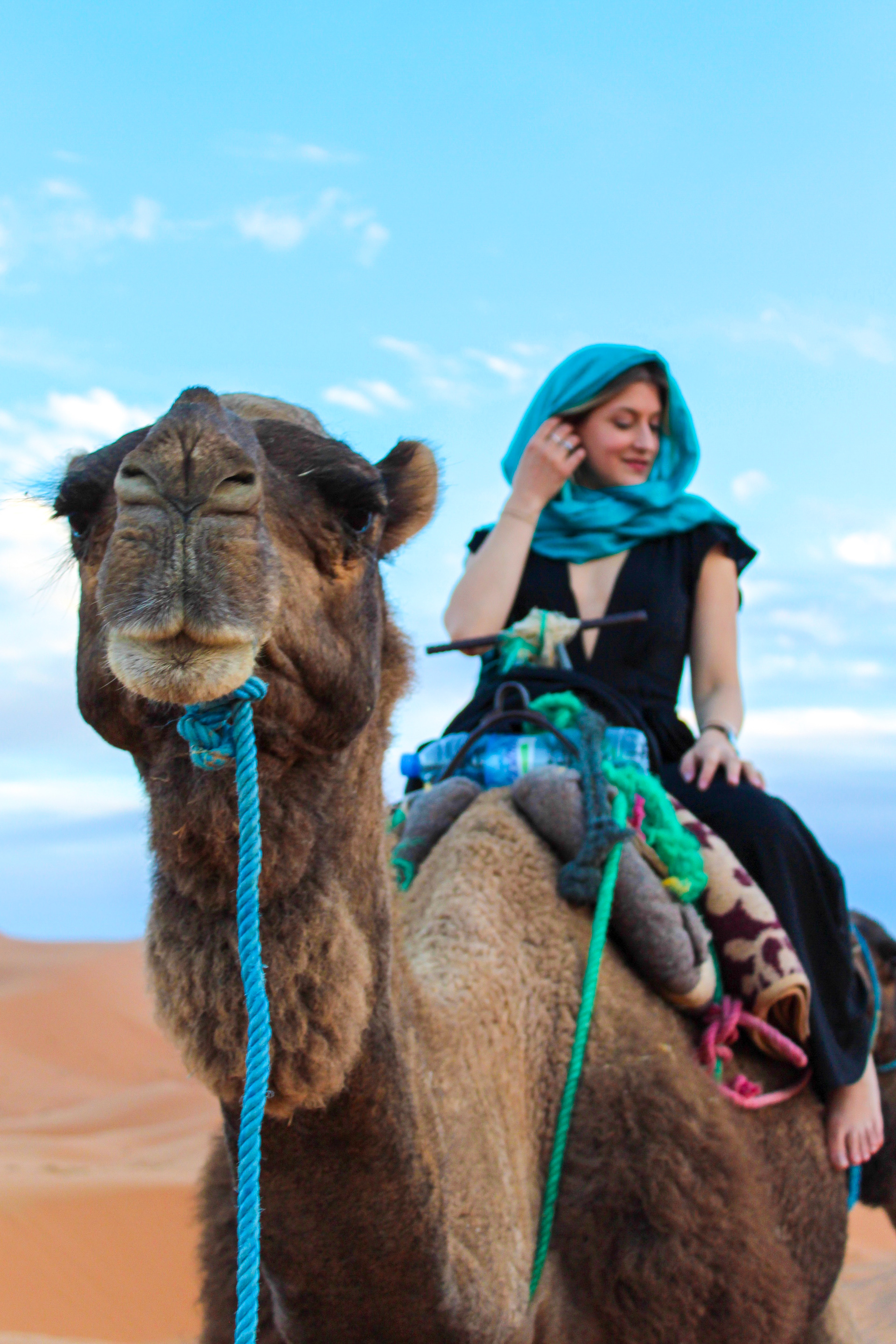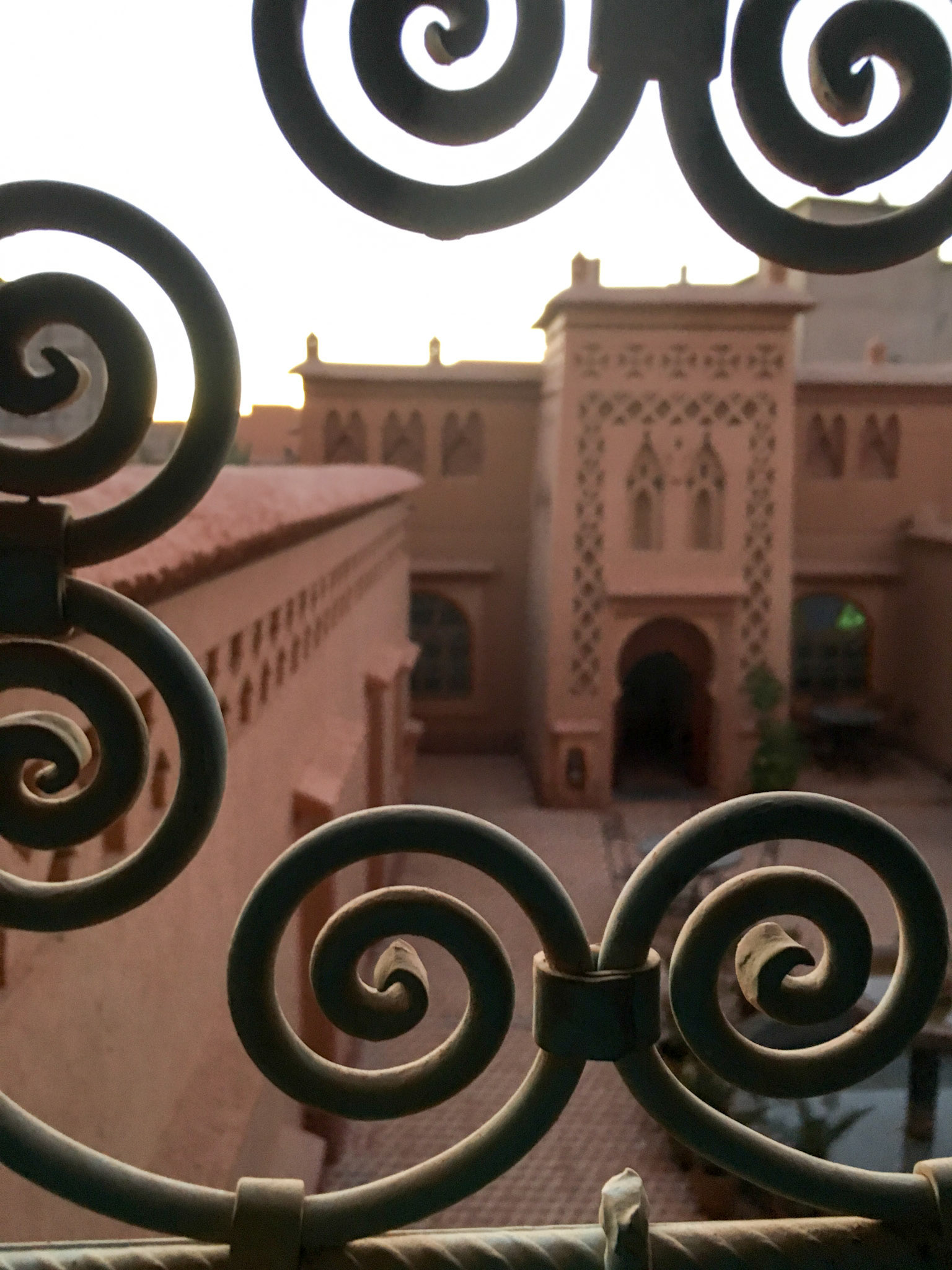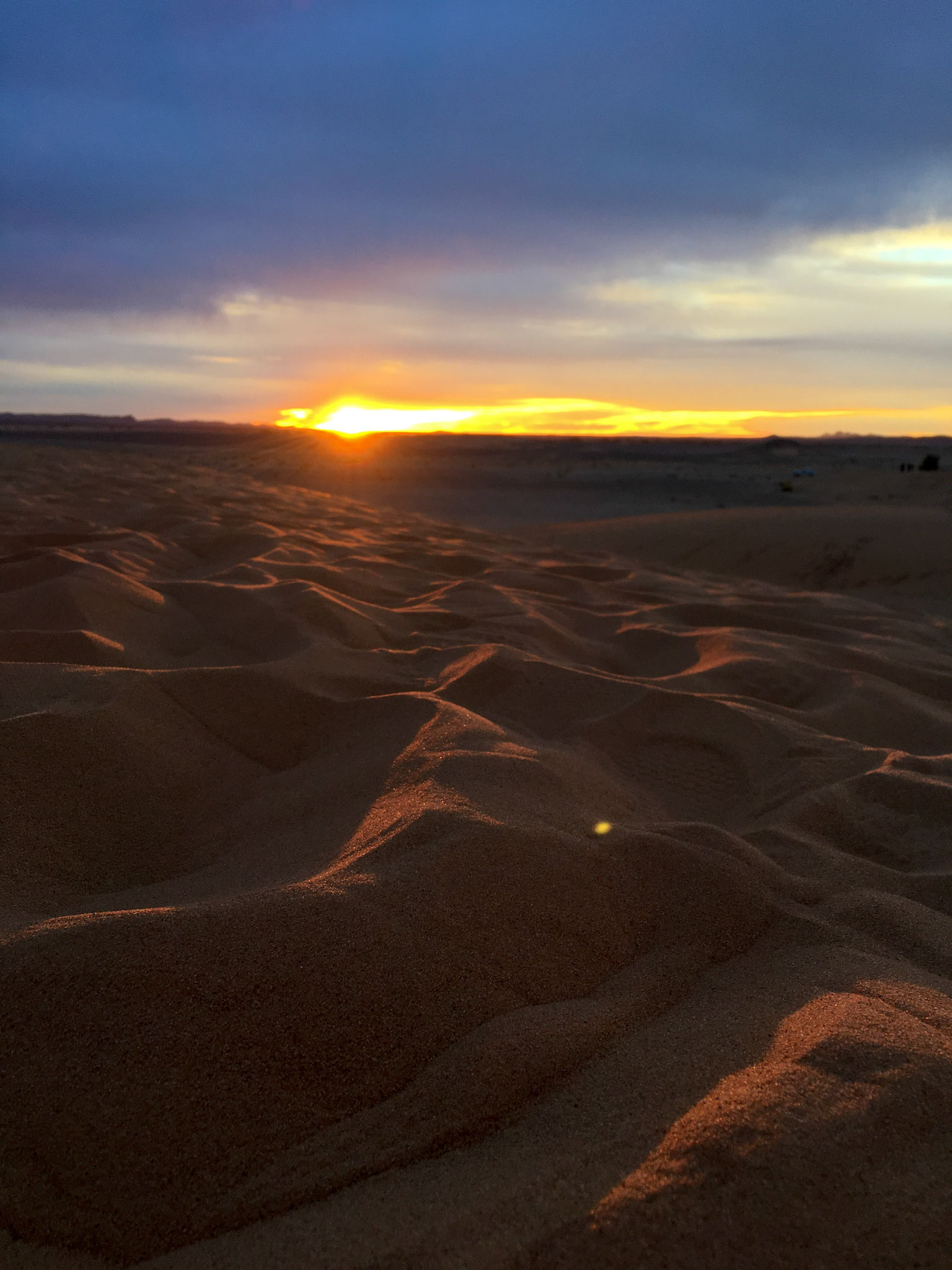 Spend your first full day in Marrakech exploring the souk. Fight the temptation to buy the first things you like (as you will want to buy things within minutes) and compare prices and products throughout the day. Go to the main square, Jemaa el-Fnaa and marvel at the snake charmers and various vendors. Be ready to refuse constant offers (i.e. hold this monkey, who will pee on you, for a photo) or to pay these people (negotiate price prior to accepting). I had a woman come up, take my hand and start giving me a henna tattoo despite my saying no multiple times. She then tried to charge me $20 for it and was furious when I said no. I gave her $10 just to get out of the situation and washed it off. Visit the Bahia palace, El Badi palace and the Saadian Tombs in one sweep since they are all close to each other. Spend the evening, enjoying dinner and your relaxing in your riad. We stayed in Riad Camilia and it was an absolute dream. It has an amazing rooftop terrace (if you haven't noticed, there isn't much I enjoy more than a rooftop terrace) that we ate breakfast on every morning. In the afternoons, we would return to the terrace to drink wine and and enjoy the view of city against the High Atlas mountains as the sun went down.
Day 9 – Day Trip to Essaouira
We decided to keep Marrakech our home base for the remainder of the trip and chose to do just a day trip to Essaouira, the beach town about 2 and a half hours from Marrakech. Spend the day here enjoying the ocean smell in the air and a slow pace.
Build time into your trip schedule to truly relax so you return from vacation feeling refreshed, not exhausted. On day 10, we moved from our riad to the historic La Mamounia hotel. We were greeted by the staff with dates and glasses of almond milk, local fare. We spent day 10 by the pool, soaking up the Moroccan sun, sipping wine and chatting with people next to us. We had the best/biggest dinner ever with our new friends at Dar Yacout. Musicians sitting on the floor played traditional Moroccan music while ate. Each course was brought out on a huge tray for the table. The meal included, of course, tagine, but also some of the best lamb I have ever had, as well as delicious chicken (two entire chickens were brought to our table for this portion).  We finished the night with cocktails in the Churchill bar at La Mamounia.
Day 11 had been forecasted as rain, so we had booked hammams at the spa at La Mamounia. A hammam is an Arabian cleansing ritual that includes an exfoliating scrub. After our treatments, we relaxed by the spa pool, which is hands down the coolest pool I have ever seen, and in the jacuzzi. For our final night in Marrakech, we had dinner at Le Jardin, which was the perfect end to an incredible trip!
Marrakech --> Lisbon --> Alicante